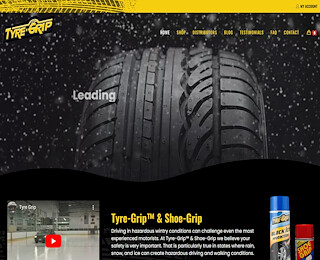 Have you tried the new tire traction spray in Anchorage? The Original Tyre-Grip can help keep you on the road with less slippage with just a simple application.
What Are Winters Like In Anchorage Alaska?
It is cold during the winter but not as severe as other places. You would be surprised to learn the average temperature is 26 degrees in Anchorage. Along the coast where most Alaskans live, the climate is temperate more like Vancouver BC than say Minnesota.
More than one-third of accidents occur in November, December, and January. When the roads are slippery, drivers in Alaska have the same problems as everyone else, and they spin out of control. That is why tire traction spray in Anchorage is a useful product.
Alaska has a sizable transitory population, which could account for the driving statistics. People don't automatically adjust to driving in the snow. Driving in adverse conditions takes practice, time, and experience.
How Do I Prepare for Winter Weather Driving?
You must be prepared for winter weather driving. There are steps you can take before you leave the home that ensures you arrive safely at your destination.
Keep an emergency bundle in your automobile. You should include but not limit yourself to the following items:
A Blanket
Battery Operated Radio
Extra Food—Trail mix, granola bars, nuts, candy bars, and non-perishable items are all great to have on hand.
Extra Medication if necessary
Extra Water
Roadside Flares
Small Tool Kit
Warm Clothing
Tire traction spray in Anchorage can be beneficial to keep in your emergency bundle for emergencies
Check your tires to make sure they have good tread and are inflated correctly.
Always keep your gas tank at least half full.
Never warm your vehicle up in an enclosed area.
Using cruise control while you are driving on adverse road conditions, such as snow, ice, or even wet pavement, is not safe nor advisable.
Take it slow. Accelerate slowly, decelerate slowly, and keep steady pressure on your brakes when necessary. If you have to go up a steep hill, do it steadily and slowly and try never to stop if you are going up a mountain unless you have to.
If road conditions are dangerous, you might want to consider staying where you are until they improve. During a severe storm, you may have to wait until the storm passes before local municipalities address the road conditions.
What Should I Do If I Slide Off the Road?
If you are involved in an accident on an icy road, it is essential to keep your vehicle moving if possible. If your car is disabled, stay inside if there is traffic. Once you know there is no traffic, exit your vehicle and get away from the road — contact 911.
Do not get out of your car and stand beside it. The roads are dangerous and icy, and another vehicle can easily slide and hit you. Do not stop for accidents or stranded cars along an icy highway unless you determine the driver is in danger — call 911.
Slick, icy roads are inherently dangerous. Try The Original Tyre-Grip today.
Tire Traction Spray Anchorage
Tyre-Grip
+1 310-632-9375
5200 Clark Avenue
Lakewood
CA
90714
View Larger Map