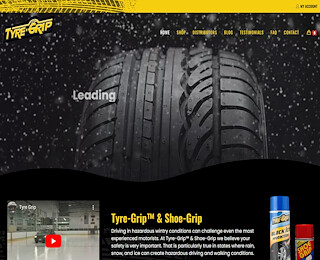 Having a set of emergency snow chains in Denver is a good idea because the weather can change quickly. The Original Tyre-Grip is the perfect alternative solution to chains, cables, and tire socks. In use, it is simply sprayed onto your tires. It provides a thin layer of specially engineered adhesive resin that increases traction on snow and ice.
Why Would I Need Emergency Snow Chains in Denver?
There are several places where you should carry chains in the winter to help get you safely to your destination. Denver's weather can be changeable, and you should be prepared. Denver averages 8-15 inches of precipitation annually, and the sun shines about 300 days a year.
The areas surrounding Denver often require traction devices, and Colorado has a traction law that requires you to have at least M + S tires, which means your tires must have a particular style of the tread pattern, and these tires are stamped. If you see a three-peak mountain and snowflake symbol stamped on your tires, that means they are a "Winter" tire, and these types of tires are for use during the winter months only.
If you live in Denver or any of the surrounding areas, you must understand the traction laws. If there is a winter storm on I-70 in Colorado and on I-80 in Wyoming, each state will have different problems. In Colorado, you will see snow, but typically in Wyoming, the wind will be more of a problem. If you are planning on any trips, make sure you do your research and understand the laws, so you don't become stuck because you do not have the proper traction devices.
Why Choose Our Product for Traction?
If you need emergency snow chains in Denver, we have an alternative product. Tyre-Grip can be applied to increase traction on any tread. There are times when even the best snow tires aren't helping enough. In those cases, having a can of handy Tyre-Grip can help you out of a tight spot.
Maybe the road is icy and was not treated, and you need to make it home from work. Do you want to spend an hour in your work attire, putting on traction devices? Chains, cables, and snow socks aren't tricky to put on, but they can be time-consuming, especially if the wind is cold. 
Having an alternative to emergency snow chains in Denver is the perfect solution. Tyre-Grip will help get you on your way in record time. The best part is it doesn't damage your car, the roadway, or your tires.
What Are Safe Winter Driving Practices?
Winter storms can lead to sloppy road conditions and make driving dangerous and frightening. If the roads are bad, consider staying home if that is an option. Here are a few tips if you do travel:
Drive Slowly. Always drive slower in the snow.
Accelerate and decelerate Slowly. It takes longer to slow down on icy roads.
Increase Your Following Distance.
Don't Stop If You Can Avoid It.
Understand How Your Brakes Work. Steady pressure is the best.
Always keep a can of The Original Tyre-Grip available.
Emergency Snow Chains Denver
Tyre-Grip
+1 310-632-9375
5200 Clark Avenue
Lakewood
CA
90714
View Larger Map